Inflation: get used to it
Alistair Darling says rising inflation will mean a tough year for everyone - and there's not much he can do about it...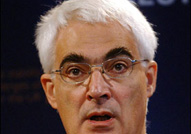 Speaking on Radio 4's Today programme this morning, Chancellor Darling admitted that 'there is no doubt our economy is slowing down', and warned of 'a difficult year ahead' as fuel and food prices continue to spiral upwards. And unfortunately, we're going to have to get used to it, according to Bank of England Governor Mervyn King - he said yesterday that inflation will hit 4% later this year. And if the Bank's Monetary Policy Committee hikes interest rates to try and calm things down, it might turn our current slowdown into a full-blown recession.
So it's perhaps no surprise that the MPC voted 8-1 in favour of holding rates last month, according to the minutes released today, with only arch-dove David Blanchflower (as usual) voting for a cut. Still, as inflation keeps climbing, the temptation is likely to grow: the minutes show that some members considered voting for a hike last time round – as time goes by, it's likely that some might start voting for it (although it's unlikely there will be enough to force a change).
The good news is that King thinks the current high is only temporary (albeit he thinks it won't stabilise until well into 2009), since it's resulted from one-off jump in fuel and food prices. And to please glass-half-full types further, he also pointed out that these hikes are not feeding through into the economy more generally, as they did back in the 1970s when the oil price was going through the roof.