How Innocent bottled fame and fortune
The nation's favourite smoothie-maker, famed for its quirky attitude and Astroturf-covered vans, sold 24 smoothies on its first day. Now Innocent supplies two-thirds of the UK market. Here's how it all began.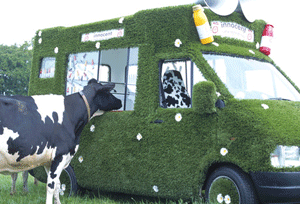 Formative years
Innocent's juicy story is not your usual rags-to-riches spiel. Founders Richard Reed, Adam Balon and Jon Wright met as students at Cambridge and were on the corporate ladder when they decided to set up an ethical, healthy business of their own. They spent a week selling homemade smoothies at a jazz festival before quitting their jobs and starting to pulp pineapples, mangoes and bananas for a living.
A cheeky email asking mates: 'Does anyone know anyone rich?' netted £250,000 from US investor Maurice Pinto. Twenty-four smoothies were sold on their first day in 1999. Innocent now shifts a healthy couple of million a week, about two-thirds of the UK market.
Recent history
In 2008, crash-hit punters stopped buying Innocent's expensive juice and four years of losses followed. Last year, it finally returned to profit, making £20m on sales of £209m.