Innocent founder Richard Reed's management tips for start-ups
The multimillionaire entrepreneur says small businesses need to advocate risk-taking and be willing to let people go.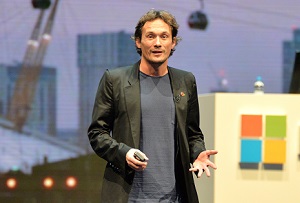 Few recent British entrepreneurial successes have attracted quite as much attention as Innocent Smoothies. Founded in 1998 by three university friends, the brand's bold branding and reputation as a (relatively) healthy alternative to fizzy drinks got consumers going and it expanded rapidly to become a global brand.
In 2013 its founders sold the last of their stakes to Coca-Cola in a deal that valued the company at a cool $500m (£330m). At this week's Microsoft Future Decoded event one of those founders, Richard Reed, shared his key management tips for entrepreneurs following in their footsteps.
Have a sense of purpose
Businesses need a 'North Star' that guides everything they do, Reed said. 'At Innocent we talked about keeping "the main thing" the main thing – this idea that we have one thing you stand for, one thing that everything was about. We were in the business of trying to make it easier for people to be healthy. That was the reason we started the company, that was the reason people joined the company.'