Innocent: VAT battle didn't exactly go smoothly
Innocent has lost in its challenge to get its smoothies classified as 'liquefied fruit salad' and thus save on VAT.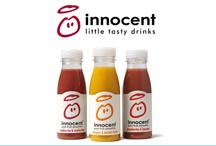 The hipster drink company had challenged its tax bill by pulling out the argument that its smoothies were a 'liquefied fruit salad', not a 'beverage'. The fact that it blatantly is a beverage apparently never entered into it.
Earlier this year the company showed the size of its pips by trying to claim back the VAT charged on three years' worth of smoothie sales, writing to HMRC asking for a multi-million pound refund. It took its case to a tax tribunal this summer, fighting on two fronts: first saying it was unfair that the government charges VAT on its smoothies – they're 100% fruit, which in its raw state isn't subject to VAT. Then it added that it was counter-intuitive to charge VAT on 'healthy' products, while burgers and chips get off VAT-free.
Needless to say the tax tribunal reacted like someone being shown a pineapple for the first time. It chucked the argument out. Though VAT is not charged on most foods and some drinks, anything classed as a 'beverage' will automatically attract VAT at the standard rate. Innocent's argument certainly seems like easy pickings.