Inside Facebook: it's a small world
London is the marketing powerhouse of the world's biggest social networking site, but is it going to be able to come up with the kind of advertising and expansion that the mothership in Palo Alto is looking for?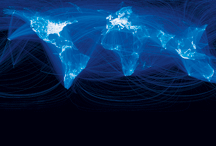 It is hard to believe when you arrive at Facebook's London office that this is the European base of 'the company of our time' - the US phenomenon that in six years has attracted 600 million users, and a possible valuation of $100bn. On the third floor of an unglamorous building, between two noisy pubs a stone's throw from the boutiques of Carnaby Street, Facebook's 70 (ish) UK staff are crammed into an unremarkable office that could belong to any SME in the capital.
The person tasked by Facebook with building out its presence in Europe, the Middle East and Africa is vice president Joanna Shields, the former Google exec who used to run social networking website Bebo (before selling it to AOL for a preposterous amount of money). A technology industry veteran, she is nigh on evangelical about her latest employer. 'This is the most interesting company I have ever worked for, in terms of its potential to change the world,' she enthuses to MT. 'Brands have the opportunity not only to deliver a message to a mass consumer audience, but also to have that message amplified... It is like the early days of TV - it's a transformational marketing platform.'
The vast majority of Facebook's 2,000 staff are based at its HQ in Palo Alto, California. This is where most of the development work behind the site takes place, so the engineers rule the roost, zooming around on their Segways and playing speed-chess in their lunch breaks. The London office, by contrast, is essentially a sales and marketing operation: the job of Shields and her team is to work out how to monetise and sell Facebook's products and features on this side of the Atlantic. With 70% of its users now outside the US, international markets are clearly a big deal for Facebook; COO Sheryl Sandberg popped by in May on her way to the eG8 in Paris and founder Mark Zuckerberg himself came for a visit last year (he went to Facebook's Dublin office on his way to the eG8). But it's still a relatively small European outpost of a big US company. Is that hard for the former Bebo CEO, MT wonders? Is her strategy dictated from afar? Not at all, says Shields. 'We have some very serious goals - in terms of revenue, user targets and so on - and we have to execute these goals regionally. But how we get there is up to us.'