Inside the mind of an entrepreneur
Scientists claim the decision-making skill of entrepreneurs can be obtained from teaching - or drugs...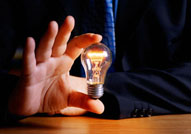 A new Cambridge University study suggests that entrepreneurs differ from standard managers because they're more inclined to take risky decisions – or at least, they're more willing to tolerate the accompanying risks when they decide to do something. And it argues this kind of decision-making under pressure can not only be taught, but also (possibly) stimulated by particular drugs. If so, that would suggest that entrepreneurs aren't just born – they can also be made...
According to the study, entrepreneurs contravene a widely-held assumption: that risk-taking is actually an abnormal expression of behaviour, hence its association with substance abuse and mental illness (in other words: that risk-taking is characteristic of people who aren't functioning properly). In fact, the Cambridge research found that entrepreneurs' 'highly adaptive risk-taking behaviour', i.e. the ability to solve problems and make decisions under stress, could be of real value in our stressful and ever-changing times. So in fact, in certain circumstances, risk-taking might actually give people an evolutionary advantage.
To test their thesis about what makes these people tick, the boffins experimented on a mixed group of entrepreneurs and managers. On 'cold' decision-making tasks, both groups performed similarly. But on 'hot' tasks, where the consequences of failure were much greater, entrepreneurs were far more likely to take the risky option. They also showed 'superior cognitive flexibility' and scored higher on 'impulsivity'. And the good news is that this kind of hot decision-making can be taught (and practised).