Insights from women in leadership?
We're here again. Another survey on women business leaders.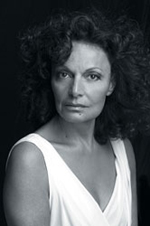 'Doing it her way: 15 powerful women on running the show' promises to provide some pretty stunning new insights into the corporate version of 'Men are from Mars, Women are from Venus'. They need to do these profiles, celebrating top women because the glass ceiling has not shattered yet. Yet it is hard to squeeze out new revelations from what is fast becoming a tired cliché-ridden topic.
You have the usual spiteful ball-busting comments from women who want to get their own back. Diane von Furstenberg, president of the Council of Fashion Designers of America (who describes herself laughably as a 'brand') says that apart from two male directors, men either "drive or clean" in her company. Wow, that must be inspiring to young males wanting to excel in the world of fashion. Christine Lagarde, French trade minister, is more patronising and says, "men can be terribly threatened and frightened of women".
Martina Navratilova, who is now aiming to be top of womens' doubles tennis, makes some inspiring comments which have absolutely nothing to do with being a woman. But they are worth quoting nonetheless: "Lead by example…doing things half-assed and just kind of coasting won't inspire anybody."
Just when you think there is nothing but turgid, dumbed-down comments of the beauty queen variety, you come across something genuinely interesting. Referring to her visits to refugee camps in Darfur, Louise Arbour, UN high commissioner for human rights says she makes a point of talking to the women there. She believes that this helps to strengthen their woefully inferior position in a male-dominated culture.
She says: "I think one way of validating women is to talk to them." But what is really fascinating is her opinion of the men she meets who, frankly, do not come across as the sharpest tools in the box: "But I systematically talk to the women. Now, that is very easy because the men are very happy to ignore me. They'll talk to my driver, my security officer, anybody who is a man. They just don't seem to get it that I am actually the boss…"
It is also interesting to note how often these women pay tribute to the inspiring role their parents have had on them. This does seem to be a difference with men, who usually quote military, political or business leaders as their source of inspiration.
Maria Celeste Arraras, a broadcast journalist in the US, recalls some important advice she was given by her father: "In this house, you come in with an A or an F. You have to be either the best of the best or the worst of the worst. But never mediocre." Helene Darroze, a Michelin-starred parisienne chef, got her start working in her father's restaurant.
She says he "very generously" withdrew and let her take over. Marina Mahathir, a social activist in Malaysia, said her mother - the first female medical doctor in the country - was a role model, and Sarah Chang, the violinist, recalls that her mother "put me on the piano when I was about three and a half".
More interesting than all this was the insight from VP of search products at Google, Marissa Mayer, who looks like the classic American blonde 'ra-ra' high-school cheerleader, into how Google stumbled upon its highly successful Google News product. She says that a programmer created a system to help him "read news better" in the wake of 9/11. It gathered news from his favourite 15 sources and grouped them together using artificial intelligence.
Mayer's genius is that she spotted its potential: "The promise and excitement that I felt when I first saw Krishna's tool was immense. It wasn't impressive in that first form - a plain white page with small groups of five plain blue links per topic and only about 10 topics covered. But I could see immediately how we could make it into a polished online news experience."
The rest is history. This does reveal how so much happens by chance and it also reveals the power of a company culture that encourages its staff to have a go at developing things and then sharing them around the office. Some of those new ideas will go nowhere but one or two will really fly. Again this is absolutely nothing to do with the fact that Mayer is a woman. Then again most of the interesting things in this feature aren't either.
Source:
Newsweek, 18 December 2006
Doing it her way - 15 powerful women on running the show
Reviewed by Morice Mendoza