Intel in Costa Rica: A success story?
This case focuses on the economic and social impact of Intel on Costa Rica and the local reaction to it.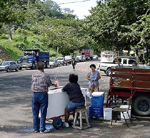 From Intel's perspective, the investment in a manufacturing plant in Costa Rica had paid off, prompting a decision to invest an additional US$110 million in 2004, thereby increasing the jobs on offer from 1,900 to 2,400. But what was the reaction of the Costa Rican population to Intel's success story?
After seven years, had the great expectations of Costa Rican officials been fulfilled or had Intel remained a kind of high-tech island?
Intel's presence in Costa Rica was the outcome of the government's commitment to attract foreign investment as a means of driving development. Whereas many of its Latin American neighbours had opted for the privatisation of state-owned companies, former President Miguel Angel Rodríguez had sought to attract foreign investment to stimulate clusters of local high-tech firms and turn Costa Rica into an export powerhouse.
With coffee and banana prices in decline, the government saw the potential of the emerging information technology sector. It laid out an attractive package of incentives for Intel including tax exemption and duty-free importation of raw materials, as well as the right to have capital flowing in and out of the country without restrictions.
Responsible for one third of global production of microprocessors - Intel's presence had clearly shaped the country's destiny. Identifying a need for 2,000 skilled workers and technicians it had launched a series of education initiatives aimed at fostering technical expertise. Later, it had started to fund management education.
But political activists, particularly students, were more critical. In their analysis, the multinational had bought a piece of land, got cheap labor and tax breaks, and had created a parallel universe where there was little contact with the local population.
Senior executives at Intel wondered how they could ignore all the social initiatives that the company had created, transforming a nation of 4 million people into a modern service economy. With the high level of human capital development mirrored in the country's competitiveness, why did they expect so much more from Intel? Could Intel meet these expectations? Did the company have a greater responsibility towards Costa Rican society at large?

Intel in Costa Rica: A Success Story?
Michael Hilb and Florencia Roitstein, under the supervision of Lourdes Casanova, Lecturer in Asian Business and Comparative Management at INSEAD, Olivier Cadot, Director of the Institut d'Economie Appliquée (Créa) at HEC Lausanne, and Daniel Traça, Professor of Economics at INSEAD,
INSEAD France 2005