Interest rates won't rise until unemployment falls below 7%
Mark Carney has chosen to peg 'forward guidance' on the base rate to unemployment. It's risky - but then, he's not afraid of a bit of risk.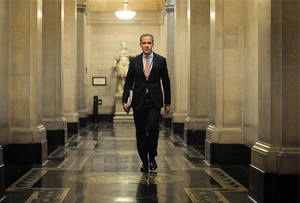 Well. The international money markets seem to like Bank of England governor Mark Carney's forward guidance wheeze. The initial reaction may have been a drop in Sterling against the US Dollar – but the pound has now edged to a six-week high. To wit:
Bearing in mind that Carney's press conference began at 10.30, we'd say the markets were feeling pretty skittish…

Carney's much-anticipated forward guidance is all very 'Bank of the People': it's designed to help investors and households with their day-to-day decision-making by giving an indication of whether the interest rate is likely to rise over the next few years.

There had been debate around what he would peg his decision-making to: some suggested he would issue guidance saying base rates wouldn't go up until the 'output gap' – the amount of slack there is in the economy – closes, while others suggested pegging it against inflation or GDP growth would be more prudent.

In the event, Carney chose unemployment, saying the rates won't rise from 0.5% (where they've been for the past 51 months) until unemployment falls below 7%, on three conditions: that low interest rates don't post a threat to financial stability, that they don't increase medium-term inflation expectations and that they don't affect the Bank's forecast that inflation will fall below 2.5% in 18 to 24 months' time.