Internet delivers results for job seekers
Job seekers are most likely to receive a job offer as a result of searching on the internet, ahead of networking with colleagues, using employment agencies and replying to job ads in newspapers, a new survey has found.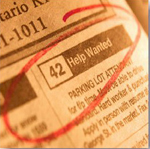 The Conference Board ran a nationally representative survey of 5,000 households to look at job search methods. Respondents who received a job offer attributed the result to internet search (38%), networking with friends and colleagues (33%), "other" techniques including employment agencies (30%) and, lastly, newspapers (24%).
Most jobseekers used more than one method to find jobs, with online and print more popular than networking or using employment agencies. The internet was used for gathering information on employers and available positions (68%), submitting resumes and applications (66%), posting resumes on a website (42%) and signing up for email notifications (39%).
The type of positions most likely to be advertised online were management jobs, healthcare, business and financial positions.
Just under half of those surveyed reported receiving a job offer. Respondents could include different sources in their answer to the question on job offers.
The lower job offer rate from newspaper ads may be a sign that job classified ad spend will continue to migrate from print to online.
Source:
Job seekers use both print and online advertising
The Conference Board
Review by Joe Gill