Interview: Meet Georgina Nelson of Trurating, the entrepreneur who's raised £4.2m to take on TripAdvisor
Georgina Nelson's Trurating uses chip and PIN machines to collect customer feedback.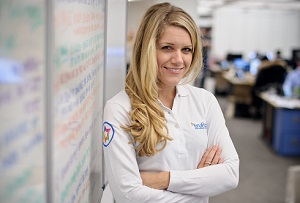 Last month the Competition and Markets Authority launched an investigation into allegations of misleading online reviews. More than half of British adults use online reviews before making a decision to buy something, but it seems there are concerns that some businesses are gaming the system – either by posting malicious reviews about competitors or positive ones about themselves.
According to research by reputation management firm Igniyte, more than half of companies have been affected by unfounded negative reviews, and some companies claim to have been devastated as a result. So how can the system be made more trustworthy? One person who thinks they have the answer is Georgina Nelson.
Nelson founded Trurating, which gathers customer feedback via chip and pin machines, in 2013. Its system pops up rotating questions of your choosing (e.g. 'how would you rate your service from 1-9?') for customers to answer before putting in their PIN. The thinking is that by making the process really quick (just one extra button push) and polling a wide range of people, you can begin to build up a fairer representation of a company's reputation than the mixture of high praise and angry rants you see on a lot of review sites.