Interview: Meet Hiver's Hannah Rhodes, the entrepreneur turning honey into beer
Hiver founder Hannah Rhodes has overcome glass shortages and cash flow trouble to build a national brand.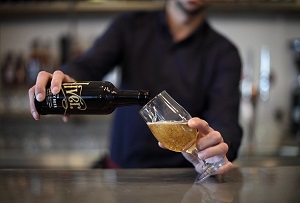 The popularity of craft beer has surged over the past few years but it is becoming an increasingly crowded market. To be a success you need to seriously stand out from the crowd.
For some that's a question of marketing. Scotland's buoyant BrewDog owes some of its success to its carefully cultivated 'punk' image, which has rubbed regulators the wrong way but been a hit with its growing army of fans.
Hiver Beer stands out for other reasons. It's not the only honey beer on the market but it's quite unusual because honey is used as a brewing sugar in the fermentation process, rather than being added as a flavouring at the end of production.