Interview: Meet Nama's Irene Arango, the foodie entrepreneur whose restaurant doesn't cook anything
Irene Arango is the co-founder of Nama, a raw vegan restaurant with a £1m turnover.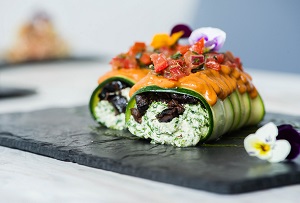 Britain's restaurant industry has been swept by a tidal wave of burgers and American barbecue food in recent years – it's often hard to find a menu that doesn't contain at least one brioche bun or serving of pulled pork.
But at the same time, some consumers are increasingly conscious of their health. The market for 'free-from' food is booming as people look to cut out wheat, lactose and dairy, and people are shunning fizzy drinks in a bid to cut down on refined sugar.
Staunch carnivores may regard vegetarianism as a difficult diet to adhere to, but some people are going much further than cutting out meat. Raw vegans don't just avoid animal products like cheese and milk, they don't eat anything that has been heated above 42-45 degrees Celsius – the theory being that cooking disrupts the nutrients in food.