Interview: Stephen Rapoport on Pact Coffee's caffeine-fuelled high
Stephen Rapoport on selling to Airbnb, running an ethical business and the danger of coffee snobs.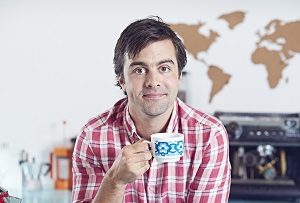 Coffee consumption has boomed in the UK in the last 10 years or so, but while the high street is packed with chains offering fresh coffee, 72% of us still drink instant coffee at home. Stephen Rapoport is on a mission to change that - one bag of beans at a time.
The serial entrepreneur, who sold his last business to Airbnb, is the founder of Pact, a subscription service for freshly roasted premium coffee. Users sign up, choose their first type of beans from a selection of eight, most of which are £6.95 each, and when you want them delivered.
For anyone who has bought subscription snack boxes from Graze it's a similar principle, although Rapoport is keen to point out that Pact's more flexible - allowing you to bring orders forward to the next working day if you're running low, or delay them if you have a surplus.