Investigations backstage while HSBC enjoys $4.5bn profits
The bank has announced a healthy third quarter profit rise but joins other banks under foreign exchange investigation.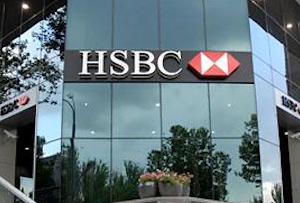 HSBC has become the latest bank to admit it is playing host to investigators looking into the potential rigging of foreign exchange rates, as it announces a 10% rise in third quarter pre-tax profits to $4.5bn (£3.8bn). It follows a remarkably similar story from Barclays last Wednesday; profits up, FCA investigators in.

Strong performance in the UK and Hong Kong have helped Britain's largest bank to lift earnings. It also said operating expenses had fallen by $700m to $9.6bn during the third quarter – largely due to a lack of one off costs which is incurred last year.

Unlike Barclays, which announced last week it didn't need to put further funds aside to cover PPI compensation costs, HSBC announced it was putting an extra $147m into the PPI pot. It also shoved $132m into the coffers to cover fees for mis-sold swap contracts and $149m to cover wealth management products.

The current investigation by the FCA relates to suggestions the currency markets have, at some point, been rigged. HSBC is not alone in 'cooperating with investigations' joining it are Barclays, RBS, Citigroup Deutsche Bank and UBS. HSBC said no suspensions had been made in relation to the scandal but rather said, somewhat conveniently, that, 'names given to us so far don't work for us anymore.'

'The Financial Conduct Authority is conducting investigations alongside several other agencies in various countries into a number of firms, including HSBC, relating to trading on the foreign exchange market. We are co-operating with the investigations, which are at an early stage,' it said.

The bank reported its core tier one capital ratio (an industry measure of financial strength) was above target at 10.6%, up from 10.1% in June. Return on equity also saw a nice little rise, from 8.9% last year to 10.4%. Unsurprisingly, the share price rose 2.46% this morning – the threat of further scandals doing little to dampen investors' appetites in the face of rising earnings per share.