Investing is a fine art for auctioneers
Investors are apparently flocking to art in the absence of better returns elsewhere. Good news for the Arts Council?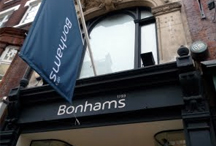 Never mind the FTSE – the latest way to make sure you get a nice, juicy return on your investment is to start buying art. According to research by the Royal Institution of Chartered Surveyors, would-be investors are flocking to auctions to pick up works of art and antiques, in the hope of snapping up a bargain. In fact, 24% of RICS members said they've seen surprisingly high turnouts recently. And even though doing all that research is a lot more effort than just leaving your money in the hands of a bank, the result may be considerably more aesthetically pleasing (as long as you're not buying anything by Tracey Emin, that is).
When you think about it, it makes sense: with interest rates at rock bottom, house prices looking decidedly shaky and the price of gold at a record high, if you've got a nest-egg to invest, art may be as good an option as any. In fact, the timing of this sudden spike in interest corresponds almost perfectly with the recession: Rics says this is the seventh quarter of growth it has seen – which takes us all the way back to the beginning of 2009, just after the recession started. Even Bonham's auction house has been taken by surprise at its sudden popularity. 'Art is clearly being seen by some as a good hedge against the unknown', it said in a report recently.
It's not always a totally reliable investment, though – as a Damien Hirst work demonstrated earlier this month. A piece entitled 'I am Become Death, Shatterer of Worlds', which (in classic macabre Hirst style) is made entirely out of the wings of butterflies, sold for £2.2m – below its £2.5m-£3.5m estimate (although that still sounds like a ridiculous amount to us). According to Rics, though, the biggest price rises are being seen in artworks in the £1,000 - £5,000 bracket.