Investing in India
Charles R. 'Chip' Kaye, co-president of Warburg Pincus, the New York City-based global private equity fund, gives his investment tips on the India and China markets.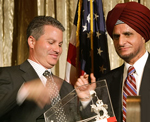 Between 1999 and 2001, Warburg Pincus famously invested a small sum of $293 million in the then little-known Indian telecoms firm Bharti Tele-Ventures. In 2005, it sold its stake and netted more than $1 billion on the deal. On investing in Bharti, Kaye says, "We had a strong feeling about Sunil Mittal", the company's chairman, as well as the government's decision to "get out of the telecom space".
A company like Warburg Pincus looks for certain qualities in business leaders, Kaye said, such as integrity and reputation. They will look as much at professional standards and the way they treat staff, customers and investors as their academic credentials. "I do not let a degree from a top business school or political connections count for more than what they are," he said.
Kaye said that the big opportunities in India will come in manufacturing such as in the automotive and hi-tech sectors. You will begin to see more stories like that of Tata Motors and its mission to build a Rs. 1 lakh ($2,175) car, he said. There is also huge growth potential in the infrastructure such as roads, power, ports and airports.
To understand how to invest in a market like India, he added, you have to go there and become very familiar with it. Warburg Pincas has 15 professionals based in Mumbai and the company has had a presence in India for a decade.
It is investing in a range of businesses such as the newspaper company Writers & Publishers, a mass market jewellery manufacturer, Vaibhav Gems, and Aryan Coal, which chemically treats recently mined coal in preparation for use.
Source:
Beyond Bharti: where is Warburg Pincus placing its bets?
India Knowledge@Wharton
29 November 2006
Review by Morice Mendoza