How investing in technology can save you cash
Upgrading your office technology can be good for your conscience as well as your bottom line...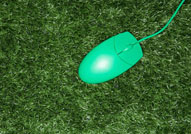 Companies can cut thousands of pounds off their bills every year by investing in smarter technology - and according to online firm officebroker.com, it's the serviced office sector that's leading the way. It's identified six areas where investment in technology is already saving firms money – and in most cases, doing the planet a favour at the same time.
Top of the list is smart metering. By using Automatic Meter Reading devices attached to their meters, firms can work out when they're using the most energy – and try to find ways to reduce their consumption at these times. So as well as cutting your energy bills (and there's never been a better time to do that), it also makes your company less of a gas-guzzler.
Telephony advances like VoIP (that's Voice Over Internet Protocol, to the uninitiated) web conferencing and virtual switchboards can also save you money and reduce your staff's carbon footprint, because it reduces the cost of their interaction. The only snag is that it also discourages your people from actually talking to each other face-to-face, which can sometimes be counter-productive...