Investors aren't convinced by Kier Group's plans to buy Mouchel
The construction group may be sixth in Britain's Most Admired Companies, but the markets aren't letting it off the leash.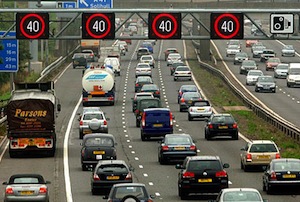 Kier Group, one of the three main companies digging the tunnels for London's £15bn Crossrail, may have been awarded sixth place in Britain's Most Admired Companies this year, but that doesn't mean investors are giving it a carte blanche. The construction company's shares slipped this morning after it confirmed it was in talks to buy Mouchel.

'In view of recent press speculation, Kier… confirms that it has held preliminary discussions regarding a potential acquisition of Mouchel,' the company said in a sparse stock market statement. 'There can be no certainty that an acquisition of Mouchel will be completed.'

Mouchel, which manages Britain's motorways traffic through the black roadside screens, has an asking price of around £400m, according to financial blogger Betaville, which first reported that Rothschild was running an auction of the company and that Kier was interested.

That marks a pretty significant u-turn for Mouchel, after it almost went out of business two-and-a-half years ago. It struggled to pay down debts following a hefty accounting error in 2011 when it overestimated the profit from a one-off contract.

Chief executive Grant Rumbles and the company's lenders bought it off the stock market and it was worth just £3m at one point. But earlier this year Rumbles told Construction News, 'Mouchel is always potentially for sale – every business is for the right price.'

Kier's chief exec Haydn Mursell, who took over in June, has previously said he's keen to expand the company's road building and mending business. Its £300m of revenue makes it the fifth-largest recipient of Highways Agency spending. That's about 10% of the FTSE 250 company's revenues, which rose more than 50% in the year to June.

Investors weren't convinced, though - shares were down 0.64% to 1,402p at midday. Then again, shares have fallen more than 22% this year, despite stellar results. Can't please 'em all.