IoD adds to tale of woe
More doom and gloom on the credit crunch today from the Institute of Directors, which reports that business confidence has dropped more in the last quarter than it did in the wake of 9/11. Thanks partly, we presume, to stories like this.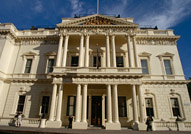 The proportion of directors claiming to be more optimistic about their company's prospects is now just 4% higher than the proportion that is less optimistic. Last quarter, the difference was 24%. What's more, the majority of directors are now pessimistic about the outlook for investment – a 20% negative swing.
The IoD's chief economist Graeme Leach called it 'a pretty gloomy survey', with a 'worrying' decline in confidence.
But some of the other numbers in the survey suggest we shouldn't be panicking just yet. The proportion of directors who felt their company was performing well was 73% higher than those who felt they were performing badly – that's almost the same as last quarter. Only 15% felt the credit crunch had actually had a negative impact on sales, and a measly 6% said their cost of borrowing had gone up. And the majority still expects profits to increase over the next three months.