Irate Chinese steel workers kill boss, scupper merger
Chinese steel workers have stalled potential job losses by killing a rival firm's manager.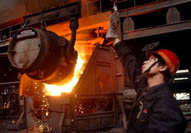 Reports this morning state that employees of the state-owned Tunghua Iron and Steel company, in the industrial north-east of the country, were 'unhappy' about plans for a proposed takeover by private sector rival the Jianlong Steel Holding Company. The deal could apparently have resulted in the loss of as many of 25,000 of the 30,000 jobs at the plant.
In fact they were so 'unhappy' that when the general manager of Jianlong, one Chen Guojun, pitched up last Friday to give them a pep talk, some 3,000 workers took matters into their own hands and rioted. In the course of which disturbance, the unfortunate Chen was reportedly beaten to death, and 100 other people were injured. Makes those French militants and their crazy boss-napping antics look positively small-time by comparison.
And while we can't in all conscience recommend such a drastic course of action, it does seem to have worked – for the time being at least. The deal has been scrapped and the jobs are reportedly safe. Although to leave it at that would set a pretty unfortunate precedent, so we wouldn't be surprised to see the Chinese authorities taking further action once the fuss has died down.