Ireland sends EU towards 'survival crisis'
The EU president has warned that if the euro goes belly up, so will the EU...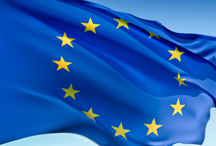 Herman Van Rompuy issued his warning ahead of today's meeting with his fellow eurozone ministers, in which they'll discuss the mounting debt crisis in the region and the increasingly imminent effluent/fan interaction scenario it threatens. The gang not only have Ireland to discuss, but rising panic around Portugal, which has said it's close to the edge and may be forced to ask for the help Ireland's refusing.
Indeed, Ireland is remaining resolute that it doesn't need the aid that the EU is determined to dish out. This has led many to suspect a game of brinkmanship on the part of the Irish: resisting the fiscal approach long enough for the eurozone leaders to get so nervous of the possible fall-out that they waive its more punitive terms – i.e. forcing Ireland to ditch its very friendly rate of corporation tax.
The question is whether Ireland really could survive without a handout. The Irish finance minister Brian Lenihan reckons so, saying that his government will continue with unprecedented cuts totalling 6bn euros, to reduce the budget deficit from about 12% to a possible 9.75% next year. Never mind the recession that threatens.