Irish-style cigarette display ban could be a drag for the UK
The Irish government is being sued by tobacco firm Philip Morris over a display ban. The UK may be next.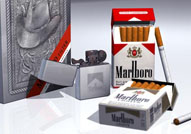 The UK government could face legal action from Philip Morris if it follows Ireland's lead and forces shopkeepers to keep cigarettes under the counter. The tobacco company, which owns brands like Marlboro and Chesterfield, said today it plans to sue the Irish government over a recent law that bans the display of tobacco products on shelves – a law that the UK is planning to copy in the next couple of years. Philip Morris's counter-arguments (the law does no good, or maybe that it promotes black-market sales) seem a bit weak, to say the least. But with cash so tight at the moment, the UK government could do without having to prove that in court. Better to let our newly pro-European Irish neighbours sort that out for us...

Ireland has long been at the forefront of the anti-smoking movement, ever since it became the first country to enforce an outright ban on smoking in the workplace in March 2004. The decision to ban the display of tobacco products was taken after the introduction of similar laws in Iceland and in Canada – and the powers-at-be in both Ireland and the UK reckon that forcing shops to hide cigarettes would discourage smoking, especially amongst teenagers. We're not completely convinced by this (how many non-smokers pop to their corner shop for a pint of milk only to be enticed by a pack of fags featuring some dire health warning or a picture of a blackened lung? Not many, we suspect). But it's worth a go.

Philip Morris begs to differ, of course; it's responded to the Irish ban by arguing that the new law is anti-competitive, since it will favour those brands with established market share (erm, like Marlboro, perhaps?). And it also claims a ban on visible cigarette displays would merely encourage their sale on the black market – the company's own research apparently shows that almost a third of cigarettes found in Ireland were dodgy, the highest level in the EU. But we suspect that people buy black-market cigarettes to avoid the huge price mark-up, as opposed to the quality of the visuals (the bloke in the pub selling fags out of a holdall won't have much of a display going on either).

Oh, and just for good measure, it also claims that the ban in Iceland has had 'no statistically significant effect on reducing smoking prevalence' – in which case why bother with the previous two objections?

So the arguments are not particularly compelling. But we suppose you can't blame Philip Morris for trying - presumably it thinks that laws like this will make its business go up in smoke even faster than it's doing already.

In today's bulletin:
Service sector bounce points to recovery - but will it last?
France Telecom deputy carries the can for suicide row
Irish-style cigarette display ban could be a drag for the UK
The Sharp End: Fruit 'n' veg apprentice
MT Expert's Ten Top Tips: Leading in an age of mass collaboration