Iron Maiden rocks out London Stock Exchange's inspiring companies list
Also featured is craft beer, wellies and recycled bread. Get inspired, Britain.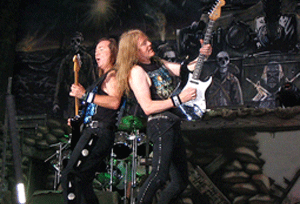 That's right, Dad rockers Iron Maiden LLP (Legendary Long-Haired Pterodactyls) have made it into London Stock Exchange's '1,000 Companies to Inspire Britain' list, worth a head-banging £10m-£20m.

Also on the list of the UK's 'most exciting and dynamic' SMEs are loud-mouth Scottish craft brewery BrewDog, online greeting cards sellers Moonpig, hipster/royal favourite Hunter Boot, and SugaRich, which turns unsold bread into animal feed.

The list covers all sectors of the economy, from Mulberry to Poundworld, with construction towering over the rankings like the Shard at 133 companies, and banking slouching in at the rear with just one. Company revenues range from a teeny £6m to a more meaty £250m.

Big data-cruncher Growth Intelligence compiled the report, gathering real-time data on indicators such as patents filed and investment, from sources including email traffic, financial transactions and lorry-spotter blogs (a big deal in tracking the exporting world, according to the tech start-up).

'Clearly firms like Metro Bank and BrewDog have had heaps of press, but who's previously heard of Sugarich, pig feed manufacturers who grew faster than PayPal, Google and Apple?' said Growth Intelligence CEO Tom Gatten.

'We hope you feel inspired,' said Xavier Rolet, LSE's sober-suited and, we now know, hair-metal aficionado CEO. We do, Xavier, we do.