Isn't that rather reckless, Darling?
Labour and the Tories have clashed this morning over the huge borrowing plans revealed in yesterday's PBR...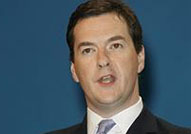 Shadow Chancellor George Osborne was back on the offensive this morning: after Alistair Darling admitted yesterday that the national debt could top £1trn in the next few years, Osborne accused the Government of taking a 'reckless' gamble with the UK's public finances. 'I think there was a big intake of breath by the nation when they realised what the cost of the last 10 years was and that we are all saddled with a truly huge debt,' he told Radio 4's Today programme this morning. For his part, Darling continued to insist that he wasn't prepared 'to just let the recession take its course' – another attempt to paint the Tories as the laissez-faire, sink-or-swim party.
Today's clashes are another sign that there's suddenly clear blue water between the two main parties on economic policy – and judging by Osborne's (well-received) riposte in the Commons yesterday, the argument is getting increasingly bitter. Darling certainly sounded a bit rattled this morning, accusing the Today programme of 'running the Tory line' (although anyone who'd just listened to John Humphreys shouting over George Osborne might have found this a bit surprising). He also accused the Tories of getting their sums wrong over the forthcoming NI increase – he says only those earning in excess of £100,000 will pay more (the Tories reckon anyone earning more than £19,000 will suffer).
Either way, the biggest losers from yesterday's PBR will be anyone who's successfully managed to haul themselves up the corporate greasy pole. Not only will they pay more income tax, and more NI as of 2011, but they'll also see their personal allowances cut or even scrapped entirely. It means that Britain's top earners will be paying the joint highest income tax rate of any developed country – which is unlikely to be great news for competitiveness. 'In the global war for talent this must damage the City's ability to attract and retain the brightest and best,' as Grant Thornton's Francesca Lagerberg puts it. Let's face it: they're not exactly going to come for the weather…