'It may not be the mafia, but it doesn't sound like Management Today'
It's James Murdoch's second appearance before the Select Committee, and he insists he was ignorant of widespread phone hacking...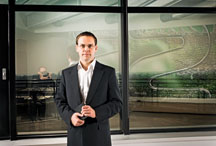 It should be a carve up but James Murdoch has maintained the outward calm and cool of a marble statue. One by one, MPs on the Select Committee have taken their turns trying to force Murdoch to admit culpability. Their efforts, thus far, have been in vain.

Labour MP Tom Watson: 'Did you mislead this committee?'
Murdoch: 'No, I did not.'

Murdoch has maintained a veneer of civility throughout. Even in the face of Tom Watson's furious accusations: 'Have you heard of the word 'mafia', Mr Murdoch? Have you heard of the term 'omerta' wherefore a group of mafia bosses are bound together by a web of secrets?' – Murdoch shrugs off his lines of questioning. Watson closes his cross-examination with the killer phrase: 'You must be the first mafia boss in history that didn't know he was running a criminal enterprise.'

Even in the face of overwhelming evidence, James Murdoch is still walking his fine line of ignorance. A transcript from Neville Thurbeck states 'Clearly News International is culpable and we're going to have to show this to James Murdoch. I'm going to lose my job.' Damian Collin asks: 'Why did you sign off on £500,000 of damages without have a full understanding of why you were paying them?' Conservative MP Philip Davies asks: 'It all seems so cavalier to me. For a company that is so successful. How can you agree to settle cases with no real cap but a ballpark figure?'

James Murdoch maintains that he either 'can't recall', doesn't understand', or 'couldn't possibly speculate'. Frustrations are mounting. Criticism of Murdoch's management of the case, of News International and of the information presented to him is rife.
As Damien Collins points out: 'News Corp may not be the mafia but it doesn't sound like Management Today'. Hear hear.
We'll be offering a masterclass in corporate probity for all media owners very soon…