Italian prosecutors to sue S&P and Fitch credit ratings agencies
With political unrest in the PIIGS countries at a particularly high pitch in recent weeks, it is perhaps no surprise that ratings agencies and their 'downgrades' are under fire, again.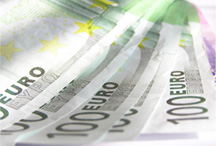 Magistrates in southern Italy have called for seven executives at Standard & Poor's and Fitch ratings agencies to be tried over downgrades that were made to Italy's sovereign debt rating last year. In tough times it's natural that people are looking for a scapegoat for all the turmoil, but this looks like yet another example of the absurd finger-pointing in the Italian legal system. Italian tax police have said the trials would be part of a wider market-rigging probe concerning the downgrades. This obviously leaves open the suggestion that Italy's credit rating could have been downgraded unfairly, or leaked to the market early as fuel for advantageous trading. Sneaky.
The prosecutors in the southern Italian town of Trani had been investigating two staff at rival ratings agency Moody's, but police say this particular line of enquiry has now been dropped. The magistrates are also investigating the ratings agencies for alleged abuse of privileged information concerning all of the ratings cuts that have been applied to Italy since early 2011. But Standard & Poor's has been quick to reject the whole shebang. It said in a statement: 'These claims are entirely baseless and without any merit as our role is to publish independent opinions about creditworthiness according to our public and transparent methodologies, which we apply consistently around the world.' A firm riposte. But probably not enough to shut up the magistrates.
They think that S&P's and Fitch's reports on sovereign debt and the wider Italian banking system were leaked during market hours. They blame this for some of the more frightening market plunges the country has seen over the last 18 months. Furthermore, critics of ratings agencies will point to the fact that debt downgrades could be seen as a self-fulfilling prophesy: if you downgrade a country, markets plunge, investment slows down further, and economic growth falls further out of reach. But is that really an argument not to downgrade?