It's not just discriminatory to make women wear heels at work - it's impractical
A receptionist was sent home from a PwC office for refusing to change shoes, but it's not just sexism that's the problem here.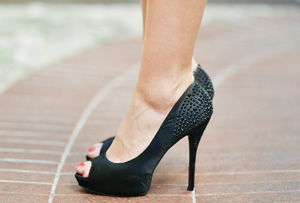 Many offices have dress codes – the dreaded 'smart casual' can be a minefield of trying to work out where your chosen outfit for the first day falls on the spectrum. And it's understandable that some occasions demand different attire – you might more formal wear for high-profile business deals than in the day to day runnings of a small tech firm.
Less understandable is the premise that any working woman should be forced to wear high heels for her job, which is apparently what happened to Nicola Thorp after turning up for her first day at PwC's Embankment offices. She was wearing flat shoes and was promptly told by a supervisor she had to come in specifically wearing two to four inch heels (no word on whether they'd be measuring to check said shoes fit the requirements). Thorp refused and said she was sent home without pay, but not until she'd been 'laughed at' for claiming the demand was discriminatory since men were allowed to don flat shoes. She'd also been told to wear make-up and was helpfully given a colour chart to describe what were deemed 'acceptable shades'.
This incident doesn't seem to be PwC's fault - the firm was quick to point out Thorp was employed as a temp by its outsourced reception firm Portico, while the dress code in question wasn't a PwC policy.