'It's not over till the fat lady sings'
No, Berlusconi is not casting further aspersions on Angela Merkel. Speaking at a press conference in Manilla, IMF chief Christine Largarde has stressed the IMF's commitment to getting Greece 'back on its feet'.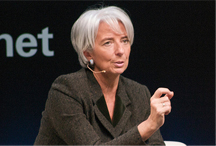 In an attempt to soothe tensions ahead of Tuesday's meeting when eurozone leaders will decide whether to give Greece its next wodge of cash, Christine Lagarde has made it very clear she's still holding out for a Greek recovery.
'It's a question of working hard, putting our mind to it, making sure that we focus on the same objective,' she said. 'Greece can operate on a sustainable basis, can recover, can get back on its feet, can re-access markets as early as possible. That is what is driving the IMF's determination.'

Greek Prime minister Antonis Samaras will be pleased to hear it. Between riots in Athens and the latest data from Eurostat which confirms that the eurozone is back in recession, he's had his fill of bad news. Having Largarde and the mighty IMF on his side could make all the difference at next Tuesday's meeting. And Samaras needs all the friends he can get if Greece is to receive its next bail-out tranche. Especially with skittish Germany balking at throwing more good money after bad.
Germany may not have a choice, however. It has been said time and time again, but a Greek exit could mean the destruction of the single currency. Not an optimum outcome for any European nation, not even the economically sound Germany...