'It's a reality check when you have to sell your car to pay the wages' - Rosemary Squire
YOU LIVE AND YOU LEARN: The co-founder and co-CEO of Ambassador Theatre Group on the importance of memory, the value of boardroom quotas and why you shouldn't underestimate Woking.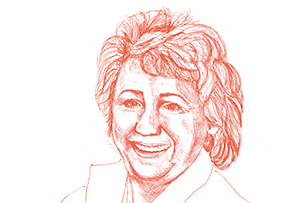 I went to a girls school in the brilliant, bluestocking suffragist tradition. It gave me confidence to achieve, not hide while boys did all the talking. At university, I did languages, which trains your memory and helps you work faster in all sorts of jobs.
I've never separated work from the rest of my life. It doesn't go away at 6pm on Friday. By the time I was 28, I was general manager of London's second-largest theatre group, but I was made redundant while on maternity leave. That was a big mistake. They had to pay me a lot of money.
Later the same day, I got a call from my future husband, Howard Panter, to join his production company. In 1992, we founded Ambassador Theatre Group, with a venue in London and another in Woking. Everyone said 'Woking? But that's a dump!', but it was the blueprint for our later success. Sometimes adversity can be an opportunity.