'It's a terrible tragedy so many UK businesses sell out so soon' - Charles Rolls & Tim Warrillow, Fever-Tree
How we beat the odds: The founders of premium mixers business Fever-Tree, Charles Rolls and Tim Warrillow, were scoffed at to begin with. Now they sell to 60 countries.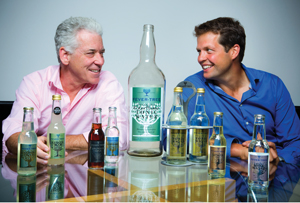 Everyone thought we were barking mad when we told them we were starting a mixer-drinks business. 'You're going up against Schweppes?' they'd smirk. 'Give me a break. That's a worldwide brand.'
As the boss of Plymouth Gin, I'd become appalled by the quality of mass-market mixers. Add one of those artificial, saccharine-packed tonics to gin and it destroys its flavour and aroma. Tim, who'd worked in luxury-food marketing, shared my disgust. We first met in 2003 and decided then and there to start a rival mixer, made from fresh, natural ingredients.
We never imagined it would take us nearly two years to launch our first product. Dealing with all-natural ingredients has its headaches. We'd develop a drink that we really liked, put it through stability and ageing trials, and then find that the flavour had completely changed and we'd have to start all over again.