It's all about trust for the BBC
MT raised an incredulous eyebrow at news that the BBC is spending half a million pounds on trust classes for its employees. Apparently, some 17,000 editorial staffers will be instructed in how not to deceive viewers. BBC director general Mark Thompson is due to attend the course tomorrow.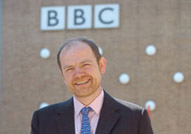 The course has been introduced at the BBC's college of journalism as a salve for the damage caused this year by various rows over editorial deceptions at the broadcaster - the most high profile of which was the so-called Crowngate Affair that involved a misleading clip of the Queen.
The training involves journalists assessing video clips of various BBC programmes, then being asked to discuss the difference between 'artifice' and 'deception'. Auntie's official position is made clear.
Though it might be good for the BBC to clearly delineate the grey area between fact and editorial licence, MT does question how much of a sticking plaster this course can be. What's of more interest is the reason why the broadcaster must be seen to be doing something like this.