Published: 03 May 2017
Last Updated: 20 Aug 2020
ITV boss Adam Crozier stood down after seven years at the helm of one of Britain's biggest media companies in 2017. The former FA and Royal Mail boss had been hailed for his post-credit crunch turnaround of the business, which offset a weak advertising market by investing in production.
"Having spent 21 years as a chief executive across four very different industries, I now feel that the time is right for me to move to the next stage of my career and to build a portfolio of roles across the PLC and private sectors," Crozier said. "I'm incredibly proud of what we've achieved in turning ITV into one of the most successful and dynamic media and content businesses in the world."
Back in 2013, Management Today sat down with Crozier to see how the turnaround was coming along.
---
Originally published in August 2013
Just look at the view, says Adam Crozier, gazing out from the 14th floor of ITV's London South Bank office. Parliament on one side, St Paul's on the other, the City stretched out beyond. 'This started as London Weekend Television's base in the 1960s. You would have interviewed Sir Christopher Bland and Greg Dyke here ...'
Scottish-born Crozier, a relative newbie to television, knows his history. But, as ever, there is a financial edge to his knowledge. 'They took out an 104-year lease on this building with no breaks - doesn't leave you with much choice,' he says softly, explaining why we are there. 'Confident, I'll give them that.'
Chief executive of ITV since 2010, Crozier is in a good place right now. His company's shares are soaring, its viewing figures are leaping, his reputation is reburnished and he looks at ease, five foot 10, lean and pensive. His £3.7m pay packet probably helps.
His thick brown hair is beginning to grey, his Easter Island face is starting to crag, but there is still that youthful mien. He is 49 now, and has been a CEO since he headed Saatchi & Saatchi aged 31.
He is also an enigma to many, and a manager whose job moves always surprise. From Saatchi to the Football Association to the Royal Mail to ITV, usually with a whiff of controversy hanging like a vapour trail behind. He is an organiser, not comfortable in the spotlight, but drawn to sticky, high-profile appointments. Explain that.
He can. 'All great brands, all going through periods of turmoil - Saatchi when the brothers left, the FA when it had lost its chairman and manager, the Royal Mail when it was effectively losing £1m a day ...'
You wonder if he has a masochistic streak. He laughs. It's just as likely he is a Scot with a serious sense of purpose, who gets up every day determined to make a difference, driven by stuff in his life that most have no inkling of.
It's also safe to say that he doesn't do introspection. He has long, set answers for most things - Crozier is nothing if not rehearsed - but if you want to make him pause, ask him what exactly he is good at. 'Oh my God, um ... I, er ... don't think about it too much. I guess, um, the important thing is just to make sure you have a really good team of people around you, not a team that follow you around but, um, the right people for that time.'
At ITV he brought over only two from his team at the Royal Mail - tellingly, his comms chief and his PA. The broadcaster was in a bad state then, overburdened by debt, overwhelmed by competition, hostage to Simon Cowell's The X Factor, its digital strategy a mess, its first choice as next boss - former Sky chief Tony Ball - reluctant to join.
'I just got a call out of the blue,' says Crozier. 'They asked if I was interested in going along for a chat in a detached way, because I was very happy at Royal Mail ...'
Of course. But one thing led to another and here he is now, with the best view in London, and a re-organised, revived ITV beneath him. He gets on well with his chairman, Archie Norman, who lured him in. Norman, of course, was the one-time Asda boss of his own one-time Royal Mail chairman, Allan Leighton. It's all in the connections. And Crozier, the head-down Mr Fixit, likes to work for chairmen who are comfortable dealing with the press - because, frankly, he isn't. A weakness?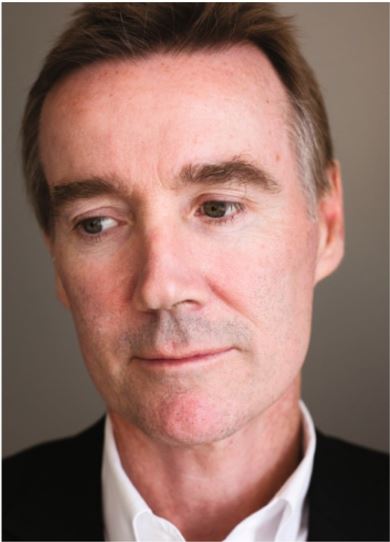 No, he says, he just doesn't enjoy interviews. Yet he is not spikey, quite the reverse: he's patient and genial. But he has a habit of ignoring questions he doesn't want to answer, and talking over questions if he hasn't finished his point. And his points come in numbered lists. His managerial style is probably the same: an imperturbable, velvet steamroller.
Some say he can be a tough man to report to, slow to praise, quick to spot mistakes. When I ask that, he deflects it into a question he prefers to answer. 'I am not sure I have ever lost my temper at work, I don't think that makes any difference - if someone has cocked up, they know. What I don't like is anyone giving the impression they don't care.'
Others say he is adept at simplifying the complex and, yes, putting together the right team - using his early experience as an accomplished account manager at Saatchi to read people well. At ITV, he says he made no decisions on strategy until he had got around its offices, soaked up the views of its employees, and gauged morale. He did the same at the Royal Mail, famously working the postie's round in his home patch of Teddington (he has since moved to Weybridge).
'It's always the right thing to do, talking to employees about what being here is really like. And from that it becomes clear that a number of things need to be done.'
He lists the points at ITV - and they come easily. 'Firstly, ITV had talked a good game for a long time; it is an organisation that constantly talks about strategies and things it will do, but it never delivers them. Secondly, it was a very silo-based organisation, the 13 regional companies that had made it up had never really come together. And it had debated for years if it should just be a broadcaster, not a producer, so lots of creative talent had left, and it had been losing viewing share for 10 years - not enough in any one year to cause a panic but a lot over time. It had no digital strategy to speak of, a very poor online product, engagement within the company was very low, 80% said they wanted to leave ...'
And that's not a surprise, he adds, because 'if you are managing decline and getting a public kicking' you would rather be elsewhere.
'Our strategy was really simple: we are in the content business, no argument about that. We want to make great programmes, then use the fact we are an integrated producer-broadcaster to our advantage. So we make great programmes, use them on our broadcast network, and then sell them around the world.'
His strategy or his chairman's? 'My strategy, but Archie was very supportive,' he says. 'The problem is that ITV had said similar things for the past 20 years.' So the priority was to do it. 'We set out to do four things. One, sort out the shape of the business so it is competitive. Two, really maximise viewing and ad revenues. Three, develop new digital pay revenue streams. Four, build an international content business.'
You can tell Crozier likes change and, because of that, he likes problems. Identify the causes, impose the solutions, find the right people to help. He is a methodical man. 'Yeah, a bit of a control freak,' he laughs. 'I'd be fibbing if I said otherwise.'
Just look at the exit door. Six of the top 10 senior executives at ITV have changed under his tenure, and two-thirds of the top 180. Nearly half the entire workforce. Beneath him, he brings in big names on big salaries - dangerous if the strategy fails - and then lets them get on with it. Well, as much as any good 'control freak' boss will allow.
'We have Peter Fincham on the broadcast side, who is fantastic, and Kevin Lygo on the studio side - the two best creatives in London.'
Fincham is the former head of BBC1 handed £500,000 by the corporation after quitting in disgrace over doctored documentary footage of the Queen. Lygo is the former director of television at Channel 4 who had to deal with the 2007 race row on Big Brother and then axed the series. Both are risk-takers with points to prove.
Crozier is about as big a contrast in style to his predecessor, the producer-turned- schmoozer Lord Grade, as it is possible to imagine. But, since his arrival, ITV has won plaudits for dramas as diverse as Broadchurch and Downton Abbey, put less reliance on reality and talent shows, and increased its programme sales around the world. The production empire is now expanding, following acquisitions in the US and Scandinavia.
'We have told shareholders we are going to continue to look at new acquisitions,' says Crozier, adding: 'We have bought eight businesses in the past 15 months. We are very strategic and selective, and ITV Studios is also showing good organic growth: revenues grew 11% in the first half of this year.'
Where does he want to buy? He won't specify, but you would guess the US is one production hub where ITV could own more.
It is an ambitious strategy, but so far investors are backing it. 'We are the number one commercial producer of programmes in the UK, we are in the top five in America, and among the top three European distributors. What we have done is very different.'
But it pays to be lucky. According to a few commentators, Crozier timed his jump into ITV well, just as the slump in advertising turned, giving him a bedrock of cash to build on.
Not so, he says. 'We had to do all this without any help from advertising. It has been flat for three years. What we have been doing is building non-advertising revenues. That's not a new strategy; what is different is actually doing it. Our digital and pay-TV revenues have more than doubled, content business profits are up more than 30%.'
So how much does digital and pay-TV contribute to total revenues of £2.2bn?
'Non-advertising revenue is 43%,' says Crozier, not quite answering the question again. I ask because he has been accused of smoke-and-mirrors here - digital and pay-TV revenues may have more than doubled, but from a tiny base. Critics feel he still hasn't done enough to future-proof the business. So again, how much does digital and pay-TV contribute to total revenues? He must know.
'I do know and I am not telling you.'
Less than 10%? 'Yes, but the key to us is content. We make profits online, the pay business margins are 75%-plus, one of the reasons profits are up.'
---
CROZIER IN A MINUTE
1964: Born 26 January in Falkirk, Scotland, Educated at Heriot-Watt University, Edinburgh
1984: Graduate trainee, Mars Pedigree Petfood
1986: Media sales, Daily Telegraph
1988: Media executive, Saatchi & Saatchi
1994: Joint MD, Saatchi & Saatchi
2000: CEO, Football Association
2003: CEO, Royal Mail
2010: CEO, ITV
Full pre-tax profits rose to £348m last year, up £21m, but still a way off arch-rival BSkyB's £1.2bn. 'We have pay channels which Sky and Virgin and others pay us for; we have catch-up content which we sell to pay platforms like Netflix, then transactional pay, where people pay; we are in the testing phase with that. You can rent individual episodes or full series, you can pay to watch premieres before they air, or a final episode, we are trialling (paying extra for) all content ad-free on catch-up, then in autumn we will trial download to own.'
It is, he says, 'very early stages' but ITV is determined to pioneer new markets. 'In the same way films went from cinema to video to DVD to online, but you're still watching films, you just change the way you do it.'
The buzz Crozier has created around ITV - just look at its positive press recently - is in marked contrast to the furore that surrounded his time at Royal Mail. To this day, he draws criticism for the ruthless way he downsized the operation and alienated the workforce. One MP recently described his tenure as 'a car crash', accusing him of stripping out jobs, taking away the second post, stopping Sunday collection, closing thousands of post offices, paying himself millions and still not producing a modernised operation.
Crozier bristles. 'It depends what your political persuasion is, but you cannot go from losing £1m a day to making £1m a day and call it anything but progress. The only way to improve efficiency was to move towards more automation, and that clearly meant a smaller workforce, and that meant in my time 70,000 employees left the company, and that was a very difficult thing to do.'
But, he adds, it was the right thing to do. 'And you're there to do the right thing, not to be popular. You can be popular and cuddly, and it might not be around today.'
And will he buy shares in next year's privatisation of Royal Mail? Suddenly the shutters come down. 'I wouldn't comment on that.'
It was only a light-hearted question. 'I don't talk about anything I do financially.'
That is a result of the flak he took. But it is also symptomatic of the way he operates at a personal level: polite, cautious, never giving too much away. Anxious PRs tell you he will not talk about his private life, but he will - he just asks that it is approached sensitively. His eldest daughter is disabled and, outside work, he pours his energies into his family, ensuring she has the best possible environment to grow up in. 'We are a very close family,' he says quietly.
Work may be a refuge, a place of order where he can make a difference. But how his family copes must make him less tolerant of the fuss others make about life's inconsequentialities. Surely it affects him as a manager?
He pauses. 'That's a very good question. I think it roots you a lot more, you see things more clearly, talking about rewards and what is tough and not tough, it gives you a better perspective. I think by seeing the real extremes of life, when you see the people that work with individuals in the disabled sector, these people are extraordinary, these people make the most amazing difference for almost no reward; it is tough and relentless and they do it with a passion and a soul which is awe-inspiring.'
Not tempted to chuck it all in and just do family for a bit? He shakes his head. Work gives him resources. 'No. We do lots of things for disabled kids as a family, we have set up things to help other kids - I don't like talking about it - we go everywhere all over the world, we don't change our lives at all. It's why I chaired the Employers Forum for Disability for three years. That was great, we got most of the big employers involved in creating roles for disabled people. Part of the problem for these kids is that when they get to young adults, everything stops. Everybody needs a purpose, whatever that purpose may be.'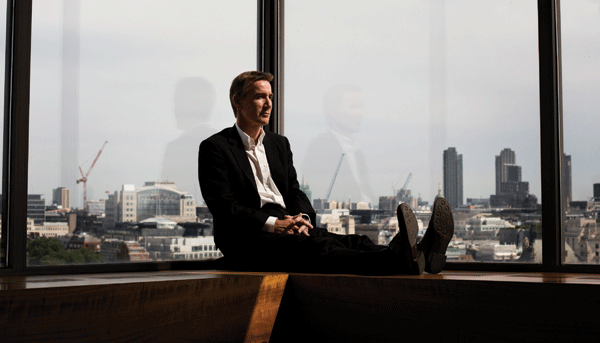 That sounds very Presbyterian. Crozier may be a lifelong Celtic supporter but he was brought up in Scotland's Protestant faith, the son of an estate manager - Lord Bute's 'factor' - who taught him the value of calmness in a crisis and how to pick apart problems. The granite resolve and work ethic come with the genes, and probably give him a strength that is only discernible when you work with him.
He still loves his football - he had trials for Scottish clubs as a youth and even now plays with mates. And at ITV, he admits, 'you are only as good as your next match'. The praise he is garnering will disappear fast with a programming scandal or an ill-advised acquisition. He has to convince sceptics that the changes he has made are lasting.
But he also has to prove the broadcaster can compete as new rivals break into the market. He is sanguine about BT's move into televised sport - the launch boosted ITV's ad revenue, but the battle for sports rights just got rougher. 'It's early days. I think BT has realised it is a very expensive thing to do. To compete head-on with Sky, you need a lot of content, not just a few highlights. BT has to ask: is it doing it to hang on to existing broadband and telephone customers, or to bring in new customers? Defensive or offensive?'
But it is a tougher market. ITV is losing the FA Cup. As a former FA boss, that must hurt.
'On the contrary,' he says. 'We have more sport than ever now, as we've turned ITV4 into a male-oriented channel: cycling, darts, rugby, football, the French Open. We quite liked the FA Cup but we don't mind if we don't have it. Largely, the games are in the daytime, and there is only so much audience you can generate, and we'll only bid x for sports rights if we can generate more in revenue.'
But will ITV be pushed out of Champions' League football too? No, he says. 'All rights holders have pay-TV rights and free-to-air rights. They try to maximise revenues for pay rights; on free-to-air they want exposure for the competition and oxygen for the sponsors.'
ITV can provide that. 'Those sports that have gone entirely pay,' he adds, citing boxing, 'have disappeared from view. Uefa tries to have a mix of free and pay rights.'
So what next for him, what job jump could he conjure to surprise us again? He waves that off, but later he talks eloquently about the NHS, that great British management conundrum. As a frequent user, he is clearly fascinated by its structure and performance.
After the pasting Crozier took at the Royal Mail, he would probably run a mile from another job overseen by politicians - and they from him. And the view from where he sits is rather good; if TV is luvvie-land, his style here clearly works. But you wonder.
THREE CHALLENGES FACING CROZIER
Establish a future-faced digital business that reduces reliance on traditional advertising revenues
Maintain ITV's increasingly successful on-screen performance as broadcaster and producer
Continue to build the international content business.