ITV can't even give Friends Reunited away
Just when ITV thought it had got rid of Friends Reunited, the Competition Commission has stepped in...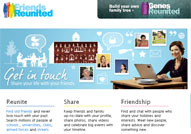 The Friends Reunited headache just keeps getting worse for ITV: having finally decided to cut its considerable losses on the once-popular networking site and flog it to Brightsolid, it now faces the prospect of the deal being blocked – on competition grounds. The Office of Fair Trading has referred the sale to the Competition Commission, suggesting that the combination of Friends' genealogy arm Genes Reunited with Brightsolid's own offerings 'could lead to a reduction in choice or service for consumers'. Since the Genes offshoot appears to be the only thing of any value in Friends, it looks as though ITV's financial pain could end up being even worse…

Brightsolid, which is a division of Beano publisher DC Thomson, already has genealogy sites called FindMyPast.com and 1911census.com, and planned to combine these with Genes Reunited to take on Ancestry.com, its much bigger market-leading rival. However, the OFT is getting its knickers in a twist because the deal would mean there are two just big providers in the market rather than three, which it says would be bad for competition. Presumably it would rather see a new entrant buy the business instead – but ITV hasn't exactly been deluged with offers…

Lest we forget, ITV paid £170m for Friends back at the height of its popularity in 2005 (and what a cracking deal that was for Steve and Julie Pankhurst, the husband-and-wife team behind the site). At the time, ITV fought off competition from the likes of BT and the Daily Mail to buy the site, so desperate was it beef up its online presence. But since then the site's popularity has waned and its value has plummeted; the Brightsolid sale netted a relatively measly £25m, and that was presumably mostly because of Genes Reunited – the original site was clearly seen to have little or no value. So if the Commission blocked this deal, it would be a real hammer blow.

In one of the biggest understatements we've seen in a while, ITV admitted it was 'disappointed' by today's decision (as did Brightsolid). Just about its best hope is that the ruling appears to have ruffled a few feathers within the new media community, with various sources insisting today that it's daft for the OFT to try and apply standard competition rules within an emerging market like this (we must admit, we're not entirely sure what it's doing sticking its nose in here). So some kind of special dispensation isn't out of the question. But otherwise, ITV is facing yet another financial hit. You have to feel sorry for them...

In today's bulletin:
Darling unveils RBS and Lloyds break-up plans
ITV can't even give Friends Reunited away
Sign up for our free MT breakfast debate - why bosses and IT types really need to talk more
Vicars losing faith in paltry pension pot
Entrepreneurs driven by hardship, not hard cash