ITV chaos continues as Bishop turns down chairman role
The farcical search for Michael Grade's replacements at ITV has taken another turn for the worse...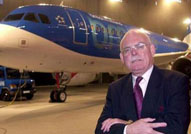 Does anyone in UK plc want the top job at ITV? If so you'd never have guessed it, given the problems head-hunter Russell Reynolds is having in its bid to find replacements for executive chairman Michael Grade. To be fair, it's not easy trying to appoint both a chairman and a CEO at once, which is why it's apparently decided to put the latter search on hold until the former is sorted. But it tells you something when ITV is forced to rule out two potential chairman – Sir Michael Bishop and Sir Crispin Davis – on the same day as announcing that its new interim CEO wants to leave the company as soon as a replacement can be found…

This morning ITV admitted that ex-BMI boss Bishop – considered to be the favourite for the chairman role – and Davis have both ruled themselves out of the running. The embattled broadcaster said it had 'revised its shortlist accordingly' but the suspicion is that it may be back to square one. Bishop was supposedly the shareholders' favourite, but according to the Times, he was so unimpressed by the rest of the board and the state of ITV's investor relations more generally that he decided the job was more trouble than it was worth. Meanwhile ITV has also taken the fairly unusual step of promoting current COO John Cresswell to the interim CEO role – despite the fact he intends to leave and seek 'a fresh challenge' as soon as a new boss is appointed (because they didn't want to appoint him full-time, perhaps?).

The search for Grade's replacement – now about five months old – has rapidly descended into farce. When Russell Reynolds was first appointed in May, it focused on finding a new CEO – but its preferred candidate, HMV's Simon Fox, ruled himself out, while the appointment of ex-Sky man Tony Ball fell through amid rumours of a row over salary (and his opposition to the appointment of Davis). And since Grade said last month that he also wants rid of the chairman role, that's become the focus of the search – after all, it would take a brave CEO to sign up when they have no idea who's going to be running the board (especially since the new person might not be a fan of theirs). Unfortunately, various City grandees have since turned the job down, most recently Bishop and Davis.

You can see why the ITV job might look like a poisoned chalice – a loss-making business with big debts, falling ad revenue and a querulous shareholder base. But this continued lack of leadership will only damage the company further, not to mention leave it vulnerable to a takeover bid (although it's quite possible that nobody wants it, of course). Perhaps they should just ditch the head-hunters and find their new CEO through a TV talent show instead?

In today's bulletin:
Brown prepares £16bn state fire sale
ITV chaos continues as Bishop turns down chairman role
Ethical banking pays big dividends for the Co-op
Howard Davies on watching himself in 'The Power of Yes'
MT Expert's Ten Top Tips: Reducing fraud losses in the retail sector