ITV slumps to new low
Yesterday was meant to be a good day in what has been a pretty terrible year for ITV. But the fact that its latest series of 'I'm a Celebrity..' got off to a flier will be of little consolation to Michael Grade, after the broadcaster's shares hit yet another all-time low.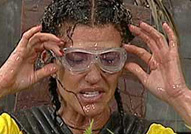 ITV's share price plummeted to new depths on Monday, closing at 86.2p. That's more than 25p lower than it was before Grade's appointment was announced last November, which isn't the kind of statistic that the chairman will be boasting about at this year's Christmas party (unless that's already been cancelled).
The big sell-off started last week when ITV said it wanted BSkyB to sell the 17.9% stake it bought last year. Things went from bad to worse yesterday when Morgan Stanley put out a research note saying the stock was actually only worth 83p, sending the share price down even further.
Grade isn't the only one who'll be sweating. James Murdoch at BSkyB will be also pretty nervous: his company paid 13p a share for its ITV stake last year, so if the Competition Commission now forces it to sell up, it could be sitting on a £300m loss.