Jacqueline Gold: 'Now I want to empower women in the boardroom'
YOU LIVE AND YOU LEARN: The Ann Summers boss has been poisoned, arrested and sent a bullet in the post, but nothing matches the pain of losing her son.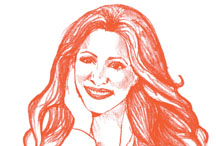 School didn't suit me. I couldn't wait to get a job and be financially independent. Back then, women weren't encouraged to be ambitious. I was mad about design so I figured I'd be a window dresser.
I've always had an entrepreneurial streak. At 13, I was designing crossword puzzles and selling them to a publisher for 50p each. My father had left, my stepfather sexually abused me and my mother had her head stuck in the sand. I could either crawl into a corner or I could create things and earn money.
I started at Ann Summers as an intern when I was 21. When I proposed my party idea to the all-male board, one man said: 'This isn't going to work. Women aren't interested in sex.' That says more about his sex life than my idea. Our forecasted turnover for this year is more than £140m.