Jagtiani seeks bargain at Debenhams
Could this man be the saviour of Debenhams, the UK high street retailer that has seen it share price plummet since going public again last year?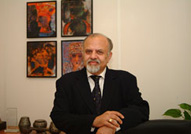 Debenhams shares were up 10% this morning after it emerged that an outfit called Milestone Resources has built up a stake of more than 7% in the ailing company. Milestone is the investment vehicle of Mahesh Jagtiani (or Micky as he's apparently known to his friends), the chief executive of Dubai-based retailer Landmark, prompting speculation of a takeover bid.
Just to further thicken the plot, Jagtiani is also an old ally of Baugur, the Icelandic investment group that owns about 13% of Debenhams – Landmark and Baugur have said they may join forces to bid for US retailer Saks Fifth Avenue. There's been no indication that they have a similar plan here (and Baugur couldn't lodge a bid until January at the earliest anyway), but with a combined stake of more than 20%, they'll certainly be able to make their presence felt.
One strange aspect of all this is that Milestone has apparently been building its stake since October, which means that Debenhams really ought to have mentioned it sooner. However, the retailer is claiming that it didn't receive the letters telling it as much – an explanation that would be totally implausible if it wasn't for the fact that they were probably relying on Royal Mail's postmen to deliver them.

Instead, the news has emerged a day after Debenhams' share price hit a new all-time low. After becoming one of the most profitable private equity deals of all time, it's been sinking fast since it was returned to the stock market last year – from 195p down to yesterday's nadir of 73p – thanks to a string of profit warnings and downgrades. Milestone's announcement sent it back up 12.5%, as investors latched on to some rare good news.