Jaguar and Land Rover seek £1bn bail-out
The government is considering a state-funded bail-out of the struggling Indian-owned Jaguar Land Rover.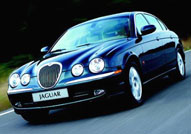 Business Secretary Lord Mandelson confirmed today that the government was in negotiations about providing state aid for Jaguar Land Rover, which could reportedly amount to about £1bn. The two famous British marques were bought by Indian giant Tata for £1.7bn in June, but (like all car-makers) have seen sales plummet in the downturn. Since they employ 15,000 people between them, the Government has apparently decided that it can't leave it to Tata to safeguard their fate – although Mandelson's insisting there'll be 'no open chequebook'…
Jaguar Land Rover admitted last month that it was battling with 'unprecedented trading conditions', which have hammered car sales around the world, and it recently cut 850 agency jobs. Apparently it's been arguing to Mandelson that it's under 'particular strain' – although we suspect a few other car companies may raise their eyebrows at that. Indeed, given that the firm is owned by Ratan Tata, one of the world's richest men, it might seem like an odd candidate for state aid – after all, Tata may be suffering from sliding sales at the moment back in India, but he's not exactly short of cash to bail the company out.
However, the Government clearly feels that Tata might need some encouragement to keep making the famous cars in Britain. And Mandelson suggested last night that the car industry may have a better claim for help than most. 'Car manufacturing is a centre of real excellence and competitive strength in our country,' he said. True enough, although it's also worth remembering that it (directly or indirectly) employs about 800,000 people at various stages of the supply chain – and that's a lot of voters for the Government to lose just before an election…