Is James Dyson's new £299 hairdryer more than hot air?
The inventor has announced a surprise move into the haircare industry.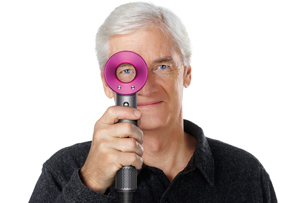 While everyone's been busy speculating about Dyson's secret electric car, it seems the company was beavering away to bring another surprise product to market.
James Dyson has dabbled in snazzy vacuum cleaners, eye-wateringly powerful hand dryers and fans without blades. But now he's turned his attentions to the humble hairdryer, launching the Dyson Supersonic – yours for £299. A price that might be enough to get your eyes watering all over again.
So what justifies the high cost? Apparently it has 'intelligent' temperature control, less noise and is more efficient and lighter due to its new V9 digital motor and a 'fast but focused' airflow. The inventor said he 'challenged Dyson engineers to really understand the science of hair and develop our version of a hairdryer.'