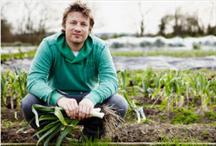 Jamie Oliver slams 'corrupt' food industry
Quote of the day: 'The food industry is as filthy and corrupt as the arms industry. And about the same size.' Celebrity chef and food crusader Jamie Oliver speaks out about the evils of food giants at Le Web London 2012.
Published: 19 Jun 2012
Last Updated: 09 Oct 2013
.
Find this article useful?
Get more great articles like this in your inbox every lunchtime