Japan: The descent of the rising sun
Not long ago, Japan's economy was the second-largest in the world. But its sense of common purpose has curdled into corporate sclerosis, managerial timidity and cover-up. And now the Japanese economy is stagnating.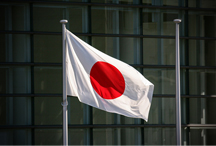 Make Love Not War. There's a thing for the Japanese navy ratings to think about as they charge around the East China Sea in their gunboats to defend the disputed remote and uninhabited Senkaku/Diaoyu islands from Chinese aggression. For Japan is a demographic disaster and if the Japanese don't start reproducing soon, rather than locking horns with their neighbours, there won't be many of them left.
Japan's population of 127 million, already hugely skewed towards the unproductive and costly elderly - average female life expectancy is 86 years - is set to shrink by 800,000 every year between now and 2060. That will then be 32% of its 2010 level. Such is the profound Japanese distaste for inward-migrating foreigners who might keep the population numbers up that the more fatalistic demographers have worked out that there will be only one person left in Japan by 2900. Little wonder that Takahisa Takahara, head of Unicharm, Japan's largest nappy producer, was recently bemoaning the fact that he sells more products these days to the elderly than to the infantile incontinent.
Japan has been falling behind for some while, and not just in its birth rate. By the time the rest of us felt our own global economic malaise following the crash of 2008, the Japanese had been dwelling in a deflationary economic mire of zero or very low growth for nigh on two decades. The nation is stuck in perma-slump and on monetary life-support, with terrifying debt and deficit problems: public debt is 239% of GDP, and taxes cover just about half of total government spending. And its leaders - six prime ministers in as many years - seem clueless and lacking in the political will to do anything about it. The government has just launched an eighth round of quantitative easing in an attempt to weaken the yen, and Japan's GDP, once nearly 20% of the global economy, will be down to less than 5% by 2042. (And you thought the UK was in schtuck.)