Japanese capitalism hits a tipping point
Corporate practice in Japan has been evolving in a positive direction over the past three years. About 40% of listed companies have at least one outside director on its board, a major shift for Japan. The government has been revising company legislation in favour of the principles of shareholder control, disclosure, transparency, accountability and investor protection.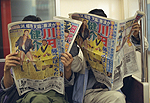 In the wake of new M&A activity, rules are being put in place for the fair use of takeover defences by ensuring any decision taken is objective. The rise of arrests, suspensions or prosecutions related to insider trading, disclosure or auditing violations has had good effect on the public, which is now more likely to report suspicious circumstances to the Securities and Exchange Surveillance Commission. Words such as 'accountability', 'transparency', and 'shareholders' are heard more by managers, who have to take notice of increasingly vocal shareholders.
Following Japan's 'lost decade' of economic stagnation in the 1990s, the idea that you can trust executives to run organisations competently and ethically without outside pressure has declined. Managers can no longer argue that Japanese values such as an intense concern for personal reputation means that they do not need to adhere to governance rules. There is a greater realisation that companies need to adopt new rules more common to non-Japanese companies to maximise growth. Therefore, governance has become an area for 'kaizen' or continuous improvement.
Now that the tipping point has been reached, what will happen next? There will be a continued rise in activist shareholders (the new Company Law says that a vote by 51% of a shareholder quorum is sufficient to change the entire board). Manager-investor dialogue will continue to lead to improvements in governance, and M&A activity will accelerate.
However, Japan's capital markets will not catch up with New York or London until it drops its 'double agency cost', in which institutions (banks and insurance companies) have the same fiduciary duty to protect investments as managers of the companies concerned.
This leads to timidity, in which executives from banks and insurance companies become 'yes-men'. This is the main reason why poor managers are not put under pressure, why valid activist critiques can be fought off and why there has never been a single successful hostile takeover in Japan.
The best answer to this problem would be for Japan to adopt a class-action system (a legal procedure that enables the common man to take out a suit against large corporate or private entities), which would expose managers to personal liability. This might make them less likely to support unjustifiable positions.
If Japan is to continue on its current path toward better governance, the government will need to introduce legal systems to protect consumers and investors. It is likely that Japan will have to see another burst of scandals, dangerous product recalls and governance failures before this happens.
Source:
Japanese capitalism hits a tipping point,
Nicholas Benes,
Far Eastern Economic Review, Vol 169 No 8, October 2006