Jarvis calls in administrators as banks pull the plug
Ominous portents abound, as a lack of public sector railway work pushes Jarvis into administration...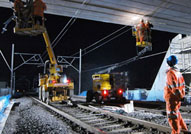 Poor old Jarvis: the railway maintenance firm went into administration this morning, after struggling to cope with a slowdown in work from its biggest client, state-owned Network Rail. Now its lenders have apparently decided that they're not going to prop up the business any longer, putting some 2,000 jobs at risk. It's also a reminder of the likely knock-on effects when the Government finally dares to take the axe to public spending. As well as private sector failures, we're also likely to see a lot more industrial action – as Network Rail's current dispute with the RMT shows…

Jarvis said today that it had been 'impacted by economic conditions generally and, in particular, the very considerable reductions in rail and plant work volumes'. It's been heavily reliant on Network Rail work for years now, but according to its executive chairman Steve Norris (the ex-Tory minister and London mayoral candidate), that's dried up substantially since the start of the recession. Norris said dealing with the 'sudden reduction' in work had been a 'painful process' for Jarvis – which doesn't really tally with Network Rail's insistence today that there's plenty of work still available.

As a politician, Norris was a controversial choice to take the reins at Jarvis in 2002, in the aftermath of the Potters Bar crash (for which it admitted liability). But he at least managed to keep it afloat – despite a wobble in 2004 when it over-extended itself trying to win big PFI deals (ah, PFI: that other big public finance scandal just waiting to happen). He even suggested in 2008 that it was 'climbing the slope to full recovery'. But the recession has put paid to that – and although Jarvis has been trying to diversify lately, signing a £55m contract with Chiltern Railways at the start of the year, its bankers have clearly run out of patience (and money).

Even after recent cuts, Jarvis still employs about 2,000 people, who now face the prospect of the dole queue. So we can't help wondering what they think of the national strike currently being threatened by the RMT union. It's still negotiating with National Rail, but last week its members narrowly voted in favour of strike action – which could see signallers and maintenance staff stage a walk-out over the Easter weekend.

Lots of private sector firms have got fat on public money in the last decade (take all those Whitehall consultants). As the spending axe falls, how many others are going to go the same way as Jarvis? And as the examples of BA, British Gas, the ex-British Rail and the Civil Service prove, those on the payroll are unlikely to take this lying down.

In today's bulletin:
Budget 2010: Government to decide which industries get a leg-up?
Next and Kingfisher cash in as retail sales rise
Jarvis calls in administrators as banks pull the plug
'35 Women Under 35' 2010: Who are the UK's top young businesswomen?
Books Special: The China Strategy, and why it matters