JCB boss: Quitting EU won't 'make a blind bit of difference'
The yellow digger maker's bosses want reform and they want it now.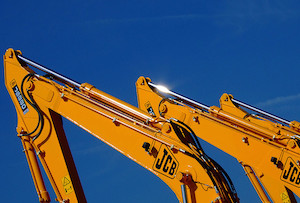 Business tends to be pro-EU, which can obscure the fact there are many multimillion-pound employers that aren't quite so keen on the single market. Midlands manufacturer JCB is one such company, as its bosses again took aim at Brussels bureaucracy.
'I really don't think it would make a blind bit of difference to trade with Europe,' chief executive Graeme MacDonald told the Guardian, when asked if it would be better for the UK to leave an unreformed EU. 'There has been far too much scaremongering about things like jobs. I don't think it's in anyone's interest to stop trade.'
'What is needed is a lot less red tape and bureaucracy. Some of it is costly for us and quite frankly ridiculous,' said MacDonald, who runs JCB on behalf of the billionaire Bamford family. 'Whether that means renegotiating or exiting, I don't think it can carry on as it is. It's a burden on our business and it's easier selling to North America than to Europe sometimes.'