JD bucks high street trend
Moss Bros issued a profit warning today, soon after sports retailer JD Group had seen its profit forecasts upgraded. With the success of Tesco and the woes of restaurateurs, it's been a topsy-turvy old week on the high street...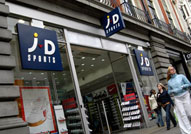 Clothing chain Moss Bros, which lost £800m in the first half of this year, warned today that it was likely to miss its profit targets for the year after a drop in sales during the last couple of months. CEO Philip Mountford blamed the downturn on 'the tough trading conditions in our markets'. He was still positive about its prospects for the key Christmas trading period, but conceded that it would probably not be enough to save its full-year profits. Moss Bros shares promptly plunged 16%.
But JD Group was singing a very different tune. The sports store chain is on course to beat its profit targets, boosting its share price and causing analysts to up their forecasts for the next two years – despite England's failure to qualify for Euro 2008.
Like most of its competitors, JD has seen sales slide in the last few weeks. But unlike most of them, this hasn't had a major impact on its figures. At the end of September, JD said year-to-date sales for the last 34 weeks were up 11.8% on last year. Now at the start of December, year-to-date sales are still about 11.8% up on last year – despite the recent difficulties.