JD Sports pounces on ailing rival JJB Sports
JD Sports has bought a 10% stake in rival retailer JJB Sports. This industry just gets ever more confusing...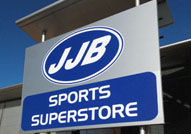 JJB has been having a hard time in the last few months as consumer spending has slowed. However, it's now been handed a welcome injection of cash by one of its biggest high street rivals. JD Sports (which by contrast seems to be thriving) said it had bought a 10% stake as a 'strategic investment', for about £8m. And with rumours that former owner Dave Whelan is also plotting a bail-out of his beloved chain boosting the share price still further, the picture suddenly looks a little brighter for beleaguered JJB investors...
It's been a rotten year for JJB. Its share have plunged by 70% in the last few months after it issued a profit warning and fell out with HBOS about a possible breach of its banking covenants. To make matters worse, it also had a £20m bridging loan from the failed Icelandic bank Kaupthing, which it now has to pay back by the end of the year. And with retail sales unlikely to pick up any time soon, it clearly needs cash fast.
One obvious option is to start flogging assets. It's apparently in talks to sell its Qube and Original Shoe brands to new shareholder JD – but that might not happen quickly enough to pay off the debt. Hence why it may be forced to sell off its profitable fitness chain division too; the FT reports today that ex-owner Whelan, who sold his 29% stake to current CEO Chris Ronnie last year for £190m, could return to his old stomping ground by offering about £100m for the 50-gym chain (JJB confirmed today it was talking to an interested party about a sale, although it refused to say who the suitor was).