Jes Staley will have to haul Barclays out of the doldrums
The bank is stuck in the mud and investors want results now.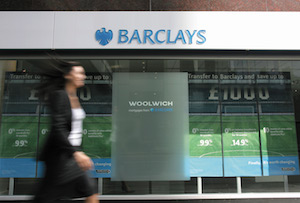 It's tough out there in banking right now, what with the world economy slowing as China falters and the US debates whether to finally raise interest rates. Just today Deutsche Bank announced a €6bn (£4.3bn) quarterly loss and 15,000 job cuts.
Back in Britain, Barclays also unveiled a set of disappointing results, a day after it confirmed JPMorgan veteran Jes Staley would be taking over the top job on December 1. Third quarter pre-tax profits fell 30% to £860m as it was hit with yet more charges for past scandals and struggled to get rid of assets in its 'non-core' business.
That wasn't down to yet more PPI charges, as with Lloyds yesterday, but a £270m provision for settling a US mortgage products lawsuit and £290m to compensate clients given bad rates on foreign exchange deals between 2005 and 2012 (the latter discovered by its own internal investigations for once, as opposed to sleuthing by journalists or regulators).