Jimmy Choo totters onto stock market as EE owners dial in to IPO talks
Despite wobbly markets, the shoe company hasn't fallen over yet, while Orange and Deutsche Telekom are thinking about floating EE.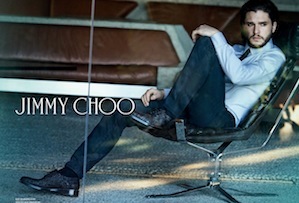 With global stock markets tanking this week over concerns that the world economy is grinding to a halt, it doesn't like a good time to start life as a plc. Challenger bank Aldermore pulled its IPO earlier this week, citing market turmoil, while Virgin Money has delayed its float, now expected to be in November instead of this month.
Jimmy Choo, on the other hand, tottered defiantly onto the London Stock Exchange this morning.The luxury shoe maker made famous by Sex and the City priced its shares at 140p, the bottom of its range. That valued it at £545.6m, well below the £800-£1bn that had been rumoured.

Shares ticked up to 140.25p in mid-morning trading - not exactly fireworks, but a better debut than many this year. It's only conditional trading for now, though, until October 22nd.

Meanwhile, amid markets tumbling left, right and centre, rumour has it that EE's owners have restarted talks on its future, raising the tantalising possibility that the UK's largest mobile network could be set for a £12bn IPO next year.

Deutsche Telekom and Orange, the largest networks in Germany and France respectively, are once again discussing whether to float EE or sell it off to a private equity firm, according to Bloomberg and the FT, both of whom cite anonymous sources.

They had ditched sales talks earlier this year, after deciding it was more worthwhile to hang onto the 50-50 joint venture while it became the first network to roll out 4G coverage. EE has said it's on track to meet its target of raising its earnings margin to 25% this year and launched a set-top box last week, meaning it can now offer the so-called 'quad play' of TV, internet, landline and mobile.

Both owners, neither of whom commented on the reports, are also distracted for now. Deutsche Telekom rejected an $18bn (£11.2bn) offer for its T-Mobile US business this week, but is still keen to offload it, according to the FT. Meanwhile, Orange is shaking up its domestic business amid stiff competition in France and also looking to buy Spanish telco Jazztel.

It looks like the rocky stock markets haven't put companies off IPOs completely, then - at least for now.