JJB continues rehab as DSG man takes top job
JJB Sports has poached the highly-regarded Keith Jones from DSG to become its new chief exec.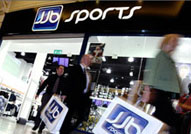 It's been a turbulent year for JJB Sports, but the beleaguered retailer has just taken another step along the road to recovery: it's appointed Keith Jones, currently the group retail director of DSG International, as its new chief executive. Jones will take the reins (no later than March next year) from Sir David Jones, JJB's executive chairman, who's been running the company since its chief exec Chris Ronnie left under a cloud in March. And all things considered, Sir David has done a pretty good job: he's saved the company from collapse by putting its loss-making parts into administration, negotiating a compromise with landlords and raising £100m from shareholders. Now it's time to stay out of the headlines for a bit...

It's certainly been an interesting year for JJB. In the past twelve months it has lost its CEO amid a share scandal, avoided administration by the skin of its teeth, and found itself at the centre of an OFT probe into price-fixing. Luckily for JJB, Sir David (who joined at the start of the year) is something of an expert when it comes to turnarounds, having rescued Next in the early 90s, and he's managed to keep the wolf from the door – although even he found himself embroiled in an embarrassing row with Mike Ashley, owner of JJB arch-rival Sports Direct (whom he apparently owed a big wad of cash).

Still, Sir David does seem to have a knack of picking good chief execs. Apart from grooming the youthful Simon Wolfson for the top job at Next, he was also responsible for hiring Marc Bolland (who's now moved on to pastures new at M&S) while he was deputy chairman of Morrisons. And his namesake certainly seems to have all the right credentials (as well as saving money on name badges). He impressed bosses at DSG so much that he was recently promoted from MD of PC World to his current role as retail director of the entire group.

The fact that Jones jr (sorry, we know it's hard to keep up with the Joneses) has left a stable job with DSG to come to JJB will reassure investors, since it presumably shows that the future of the company is looking a lot brighter. Its financial problems have been resolved (for now), it's been granted financial immunity by co-operating with the OFT, and rivals Sports Direct and JD Sports are finally off the share register. And with a remuneration package that's apparently largely incentive-based, Jones has a lot to gain by continuing this nascent recovery. Let's just hope he doesn't owe Mike Ashley any money.

In today's bulletin:
Greece is the word amid rumours of Budget bust-up
HMV profits from rivals' woes - but Waterstone's sales slide
JJB continues rehab as DSG man takes top job
Happier employees = unhappier managers?
My Week: MC Hammer (now of Cash4Gold)